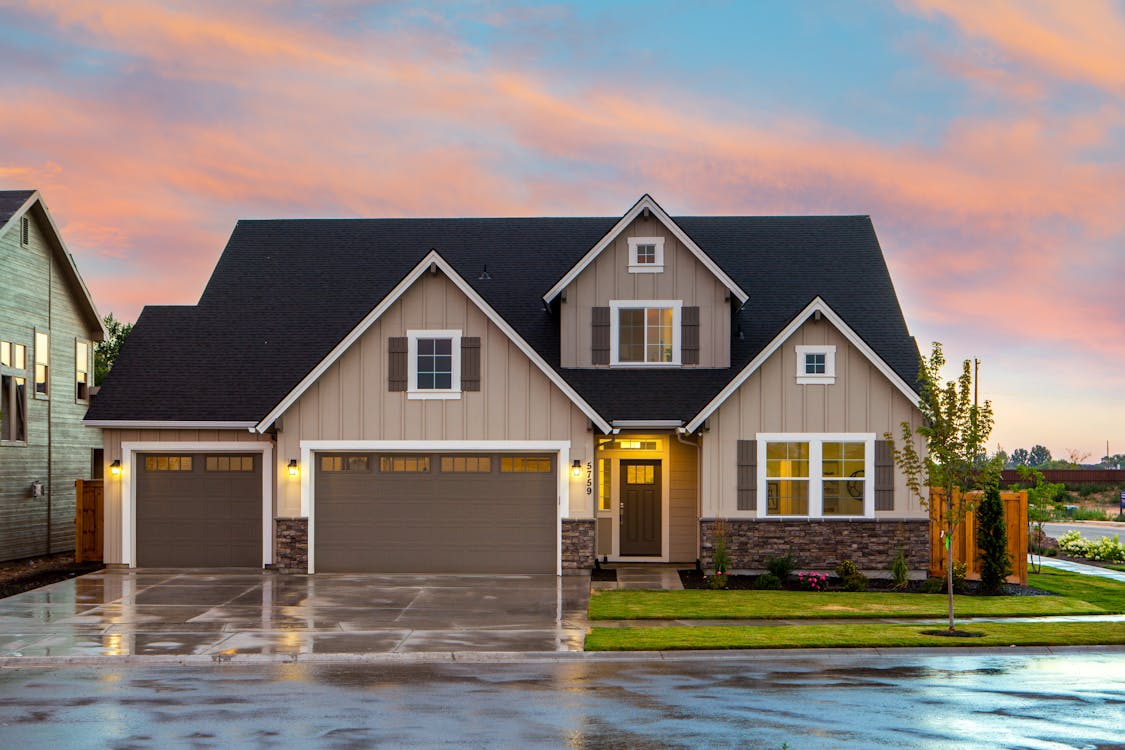 When to Repair or Replace a Garage Door
Much like your home's front door, the garage door is a major entryway into your home, so for safety purposes, it must be in good working order and secure.
We've already showed you how to replace an entry door, so now we'd like to talk about when to repair or replace a damaged garage door and what to look for in a new one. Aside from safety, repairing or replacing a garage door in poor shape will also increase your home's curb appeal.
When to Repair a Garage Door
Your garage door makes up a large portion of the visual aesthetic of your home, particularly when it's a double or triple car garage. Therefore, you want to make sure that it's in pristine shape to enhance your curb appeal and complement the rest of your home's architecture.
When your garage door starts to show signs of wear and tear, like rust and fading, or a single panel needs replacing, it's a good time to consider residential garage door repair over a full replacement. If you have a wooden model, a quick DIY repair might be enough.
Family Handyman notes that wood's natural finish lasts for a few years before needing re-coating and sanding to get it looking new again.
Other signs your garage door needs repair include loud noises when it opens or closes or if it falls very quickly. A common problem is sagging, which means that one side of your door is heavier than the other, and could be putting unnecessary stress on your lift motor.
Depending on the type of door you have, whether it's a tilt-up or a roll-up, the average cost of a repair will cost you about $223. Prices range from $147 to $341, with roll-ups generally costing more due to the heavy-duty spring coil.
In the New York area, there is a multitude of garage door repair companies, and with a wide range of expertise, there will be one that will be able to expertly repair your garage door.
When to Replace a Garage Door
As opposed to wear and tear, damage caused to your garage door by a collision, storms and high winds, or other causes may be more extensive than you think. Many different parts make the door function properly and safely, from rollers to the mounting brackets and rolling track, among others. So it's best to make a visual inspection of all moving and stationary parts first before you consider your next step.
However, if anything is extensively warped or cracked (particularly when it comes to wooden doors), broken or otherwise damaged, it's recommended that you replace it as the cost of repair will probably exceed the cost of replacement.
Additionally, if your garage door is more than 15-years-old and showing signs of rust, fading or generally clashes with the appearance and style of your home, Forbes' guide to replacing your garage doors recommends installing a new one.
The ideal time to start a job like this is during the summer and dry months since this is outdoor work you don't want to be starting during the middle of a thunder- or snowstorm.
Today's garage doors benefit from materials that can withstand weathering, including steel, fiberglass, vinyl, aluminum and wood, and come in framed or frame-less designs. While wood looks fantastic when it's new, it's not as durable as other manufactured materials like steel. U.S. News explains that steel won't crack, warp or degrade, from weather exposure.
So, unless you're willing to devote time and money to extensive maintenance, most consumers overwhelmingly prefer steel for its strength, low maintenance, and relative affordability.
In fact, major home improvement centers sell more steel garage doors than any other type. You'll also need to check if your garage already has a built-in frame. The variety of steel garage doors listed on Screwfix, show how models either come with a frame or are frame-less.
A frame-less door is generally slightly less expensive and is ideal if you have an existing wooden frame. Another important aspect to keep in mind when choosing a garage door is insulation. It's best to go for the insulated variety which has a layer of polyurethane foam for thermal insulation and soundproofing.
If you're looking for a specific style to complement your home, some of the ideas featured on Southern Living detail how many homeowners are choosing more rustic designs. Other garage doors featured include contemporary styles, which offer designs that are elegant, functional and full of charm.
Door Installation Has Never Been Easier