What Hardware Do I Need For an Exterior Door?
Since you already know how to install an exterior door, you might be wondering what hardware you should buy. If you're purchasing an exterior door, you may have noticed that all the hardware is often not included. This can leave you wondering – "What hardware do I need for an exterior door?". In this guide, we'll go over what you'll need, what to look for, and how to choose.
Getting the proper hardware for your exterior door with not only make your house look better, but it will ensure lasting functionality of your exterior door.
Selecting an Exterior Door Handle
Selecting a handle that matches your exterior door and hinges will be the most important aesthetic aspect regarding your door. Most doors use a knob with a dead bolt or a handleset with a deadbolt. Aside from getting a regular exterior door handleset, you will also have the option to buy key-less entry pads with a numerical pass-code.
Knobs and handles come in a variety of materials, such as antique brass, rubbed bronze, or satin nickel. Hinges also come in the same materials, so it will be easy to find a match. Depending on how visible your door is or how frequently it's used will decide whether you should go with a handleset or just stick with a door knob and deadbolt set-up.
Handlesets generally look better, but can be slightly slower to open if you use the door frequently, and they're usually more expensive.
Doorknobs generally refer to exterior, round door handles with a keyed lock inside. For added security, most exterior doors will contain a separate deadbolt, giving it two locking mechanisms. Here's a selection of door knobs from Lowe's, to get a better idea.
A handleset is a long handle grip that replaces the need for a doorknob. They usually have a separate deadbolt placed above them or have a connected deadbolt on the same piece. Handlesets generally look better than doorknobs, but are also more expensive.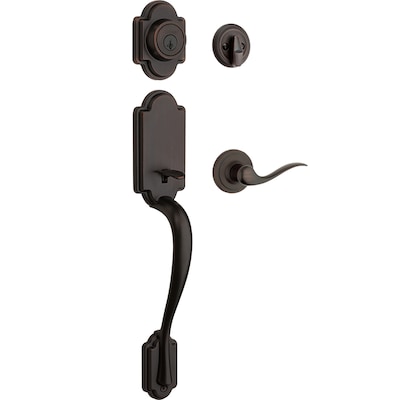 What Kind of Exterior Door Locks Should I Get?
The most important overall selection you can make when purchasing door hardware is what type of lockset to install. Locksets are generally slip into two types: Tubular, which is common in most residential homes, and the kind you will be most familiar with, and mortise, which is more secure and common in most commercial doors.
A tubular lockset will be the most economical solution, though slightly less secure. According to unitedlocksmith.net, with tubular locks, key pins are pushed in horizontally, compared to a standard pin and tumbler that moves key pins vertically. As a result, the plug (holds the key pins) rests in the same cylinder as the bible (holds the driver pins and springs).
Most locks that you find in big box stores that are in a door-knob will be tubular. Though, some won't even specify which type of lock is inside because tubular is generally used. 
Mortise locks are generally considered stronger and more secure than tubular locks and are usually used in commercial settings. They are durable and are good for areas with heavy use, such as business settings. The mechanism by which mortise locks work is by requiring a pocket to be cut into the edge of the door where the lock is then inserted. This allows for a longer and thicker mortise to be slid into the door itself, which makes it more secure.
What Kind of Hinges Do I Need For an Exterior Door?
The most common type of hinge for both interior and exterior doors is called a butt hinge. A butt hinge contains two leaves joined by a metal pin that creates a pivot point for the door to open and close. This is similar to how another type of hinge, called a ball-bearing hinge works, but a ball-bearing hinge contains permanently lubricated bearings. Generally speaking, you won't need to a ball-bearing hinge for residential purposes, unless you're door is especially heavy.
If you're thinking about replacing your current hinges, you may just need to learn how to fix a squeaky hinge.
Since the type of hinge you'll need is pretty straightforward, the next factor in your purchase should be what the hinge looks like. Hinges come in many variations of brass, bronze, or nickel. It usually looks best to get hinges that match your door handle, so all the hardware matches.
Door Installation Has Never Been Easier